New domain hack idea
Today, I happened to visit The Daily Monster. It's a very cool site, I highly recommend you guys to visit it.
This post is not about Stefan and his monsters however, but about some domain hack ideas that I've just come up with today. In case you're not familiar with the term, Wikipedia has a clear definition for domain hack:
A domain hack (sometimes known as a domain name hack) is an unconventional domain name that combines domain levels, especially the top-level domain (TLD), to spell out the full "name" or title of the domain. Well-known examples include blo.gs, del.icio.us, and cr.yp.to.
So upon visiting The Daily Monster, I was quite surprise to see it didn't have its own domain name. I was expecting something like thedailymoster.com or dailymonster.com or dailymonsters.com or so, but it turned out that the url was a Typepad subdomain, not a standalone. I totally believe that content is King, but a good domain name in this case would be the crown. I was telling myself "Maybe the domains had been purchased by other guys" and I was right - none of them are available.
Then, I thought based on this "one design a day" concept I'd do a similar site on my own. "Daily face", how is that? A drawing of a face each day. I used to sketch a lot, sometimes with pencil, sometimes with the computer mouse, like this one: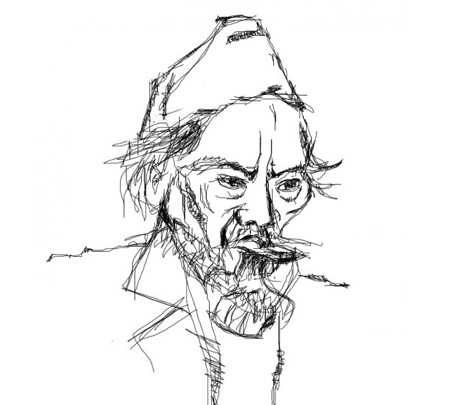 The domain name I came up with was of course "dailyface.com". Needless to say, the domain was not available. So I tried some domain hacks. The result I got in the end was dai.lyface.com. The domain name is lyface.com, and "dai" is a subdomain.
Now comes the interesting part. If you don't notice, the domain name starts with "ly". Which means, I can add a lot of cool subdomains. To name just a few:
week.lyface.com
month.lyface.com
year.lyface.com
ug.lyface.com
sil.lyface.com
friend.lyface.com
f.lyface.com
li.lyface.com
on.lyface.com
bel.lyface.com (LOL'ed at this)
free.lyface.com
etc. and etc.
You can see, with one domain name I can come up with many different sudomains to hold different contents. I can use "week.lyface.com" to showcase best drawing each week; same goes with monthly and yearly. You can tell similarly with ug.lyface.com, sil.lyface.com, friend.lyface.com etc. In short, any word ending with "ly" can be used to create a meaningful subdomain. Guess what, we have 8742 such words!


Image credit: ecstatistic
You get what I mean now? If you manage to get a domain starting with "ly", the sky is your limit. The potential is huge. I don't know if they are available or not, but here is a list of such domains I've just come up with: lymovies, lysports, lysports, lygames, lymusic, lysongs, lystuffs, lyeverything, lytips, lyinspirations, lythemes, lydesigns, lyhacks, lytricks, lyphotos, lypics, lystories, lyfun, lylullabies, lychance, lymeet, lynews etc.
Exactly the same concept can be applied to "ed". Here we go: tir.edcoder.com, bor.edcoder.com, inb.edcoder.com, r.edcoder.com, hat.edcoder.com…
This is especially effective if you want to build up a network of your site, revolving a central concept.
What do you think? Am I reinventing the wheel?